Capitol Kaleidoscope : Overview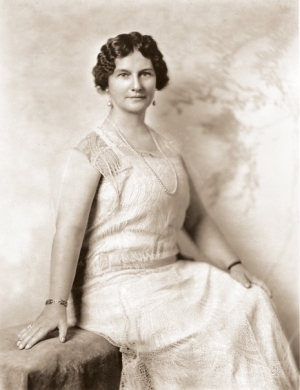 In 1919, two very important events changed the lives of the Keyes family. First, Houghton Mifflin published Keyes's first novel, The Old Gray Homestead. This success, in addition to her already published essays in The Chronicle, the Granite Monthly, and the Atlantic Monthly, encouraged the thirty-four-year-old Keyes to think of herself as a writer with potential. The second change was the election of Harry Keyes to the U.S. Senate and the family's relocation to Washington, D.C. Soon after their move, Frances Parkinson Keyes was involved in the daily rituals of a Senator's wife but she also found new writing opportunities through her association with Good Housekeeping and other women's magazines. She continued to write novels but found it difficult to get them published. Her second novel, The Career of David Noble, was published in 1921 but it would be almost a decade before her third novel, Queen Anne's Lace (1930), was published.
This essay examines Keyes's life in New Hampshire after her marriage, her early years of motherhood, and the family's move to Washington, D.C. Her work in Washington as a political journalist is highlighted here, especially her efforts on behalf of the Sheppard-Towner Maternity and Infancy Act. Central to this essay is an examination of Keyes's development as a writer.

Pine Grove Farm
Frances Parkinson Keyes found life on Pine Grove Farm busy, isolating, and fulfilling all at once. Her mother-in-law and sister-in-law, Belle, lived on the farm during the summers and they dominated the household when they were in residence. After the birth of her third son, Keyes's days were filled with domestic duties, arranging lessons for her three boys, visiting with family and friends, and going into the nearby towns to shop, dine, attend cultural events, and volunteer for various causes, including organizing a local church guild and raising money for a library in North Haverhill. [1] Like her mother before her, Keyes became an active member of the Daughters of the American Revolution. After the United States declared war on Germany, Keyes participated in Red Cross meetings, went to surgical dressing classes, and raised money though Liberty Loan drives.
When Harry Keyes decided to run for Governor of New Hampshire, Keyes's involvement in public activities increased. She began making speeches and traveled around the state attending campaign functions. When Harry was elected, Frances was nicknamed the Lieutenant Governor for her efforts on his behalf. [2] The honorary title was apt. Keyes's daily calendars and correspondence show that she was an organized and efficient political spouse. Although later in life Keyes emphasized the obstacles that she had to overcome in her process of becoming a writer, her organizational abilities are evident in the correspondence and other documents that detail her life before and after she moved to Washington. Organization not obstacles should dominate the stories we tell about her as a writer.
For Keyes, writing was life. "I knew I was going to write whatever happened," she wrote in her 1960 memoir and she quoted from Axel Munthe's The Story of San Michele to explain herself. "There was a comfortable main road leading from the brain to the pen in my hand. Whatever thoughts I have to spare have groped their way along this road ever since I began to tackle the alphabet."[3] Learning to work efficiently allowed Keyes to make writing a central part of her life and she called her first years on the farm, during the era when she was being "nurse and teacher" to her children, "a valuable period of apprenticeship." She began writing the novel that became The Old Gray Homestead in 1914, five years before it was published, and, at the same time, she was composing historical articles that began to appear in the Granite Monthly. "I wrote my first novel when I was nursing a baby," she recalled in 1953. "That was the only time I ever sat down." [4]
Notes:
1) All Flags Flying, 55-56.↵
2) All Flags Flying, 113.)↵
3) Roses, 170. Munthe was a Swedish physician and animal rights advocate who live much of his time in Italy. The Story of San Michele, Munthe's 1929 memoir, was an international bestseller.) ↵
4) Washington Post, April 30, 1953.) ↵
---
Related Documents